Opening hours
The Saint Bénezet Bridge is open every day of the year.
The last tickets are sold half-an-hour before closing time.
- From 1st September to 1st November : 9am - 7pm
- From 2d November to 29 fébruary : 9:30am - 5:45pm
- March : 9am - 6:30pm
- from 1st April to 30rd June: 9am - 7pm
- July : 9am - 8pm
- August : 9am - 8:30pm
FREE OF CHARGE MULTIMEDIA AUDIOGUIDE
11 languages (Chinese, Dutch, English, French, German, Italian, Japanese, Polish, Portuguese, Spanish, Russian)
FREE OF CHARGE
Children under 8.
Avignonnais on Sundays from September to June
Holders of the "Key to the Palace".
ACCESSIBILITY
Thanks to specific new reception design, the site of the Avignon Bridge offers entirely accessible disabled access: parking spaces, sliding door, dedicated ticket window, flat traffic areas, restrooms, lifts …
The film "From One Riverbank to the Other" is sub-titled (FR/GB). Specific commentary for the visually-impaired and additional tactile devices.
Prices
Popes' Palace
| | |
| --- | --- |
| full price | 12 € |
| reduced price | 10 € |
| School | 6,50€ |
| Guide (per group) | 120,00 € |
| additional fee sunday / public holidays | 140 € / 180 € |
St Bénezet Bridge
| | |
| --- | --- |
| full price | 5 € |
| reduced price | 4 € |
| School | 3,50€ |
| Guide (per group) | 120,00 € |
| additional fee sunday / public holidays | 140 € / 180 € |
Bridge + Palace
| | |
| --- | --- |
| full price | 14,50€ |
| reduced price | 11,50€ |
| School | 8 € |
| + city | 160,00 € |
| additional fee sunday / public holidays | 190 € / 250 € |
Group (guided tour inAvignon)
1/2 day (3h)
 
Guide (per group)
160,00 €
additional fee sunday / public holidays
190 € / 250 €
 
1 day (6h)
 
Guide (per group)
260,00 €
additional fee sunday / public holidays
350 € / 380 €
CONDITIONS FOR APPLYING FOR DISCOUNTED TICKETS
- Children between 8 and 17
- University students (must present their Student Card with current dates)
- Senior citizens over 60 (must present an ID card proving date)
- Large families (for all members of the family, must present their "Famille Nombreuse" card)
- Handicapped persons up to 80 % (must present their Card)
- Holders of the CEZAM Card
PAYMENT

VIGIPIRATE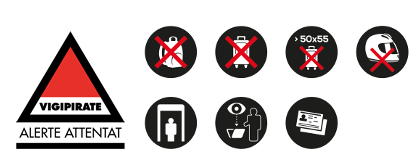 Contact
Avignon Tourist Office
Tel. +33(0)4 32 74 32 74
From Monday to saturday; 9am to 5pm